Color Me Blue
My irrational love for France has never been a secret and has manifested itself in many ways over the years. I have delved deep into countless historical biographies and probably know more about the origins of haute cuisine, the reign of terror and the decadent whims of Louis XIV than any reasonable person should. I just can't seem to be sated when it comes to the continuously unfurling pleasures of France, but I do plan on a life of trying. As of late I've found myself infatuated with a particular shade of blue commonly referred to as "French Blue" a hue of which this Franco-phile is drawn like a moth to a flame.
This shade was a favorite of The Sun King himself seen here flashing his famous gams in powder blue stockings, draped in a "French Blue" velvet robe embroidered with the symbol of France, The Fleur de Lys or Flower of Louis, in nothing less than shimmering gold thread.
Louis, also famous for his passion for things that sparkle, had a penchant for diamonds and was the first owner of the most famous one in the world, Le Blue De France now known as the Hope Diamond. Brought back for him from a mine in India by his royal gem procurer in 1668. The 115 carat blue stone is the largest of its kind in the world. Louis had the enormous stone cut down to a modest 69 carats and preferred to wear the weighty gem around his neck from a single ribbon. Talk about a statement piece!
Nearly a century later, Marie Antoinette who (before that whole revolution debacle) was known more for her fashion sense had a particular affinity for a certain shade called "Nattier blue" commonly used by court painter Jean-Marc Nattier or "the magician" as the ladies of the court of Versailles liked to call him. The Queen wore blue for nearly every portrait painted of her throughout her life up until the very end. Tiffany, according to legend, used this hue as the inspiration for their beloved boxes.
Sophia Coppola used the color exquisitely in her eye feast of a movie about the doomed child queen:
The Comtesse D'Artois a literal fashion plate of her time:
Vincent Van Gogh wore blue in every portrait he painted of himself with one exception, his last one.
A young Mademoiselle Chanel wears the haunting hue for a portrait painted of her by Marie Laurencin:
Avedon recreates The Blue Angel with Marilyn Monroe as Marlene Deitrich.
This picture I just took reminded me of my love for Rene Magritte's unbelievable painting The Empire of Light. It must have worked its way into my subconscious after all these years.
Walking through the village of Roussillon last fall we stumbled upon this shade…
Me living out my fantasy Provencale life:
Lunch in the countryside. We were told the color of the shutters is meant to mimic the fields of lavender in the summer.
I love this surreal sculpture we saw of the Marquis De Sade overlooking the ruins of his infamous castle. It was quite a climb but so worth it.
The elusive Blue Iris:
A powder box I found from the '40s:
A French Garden: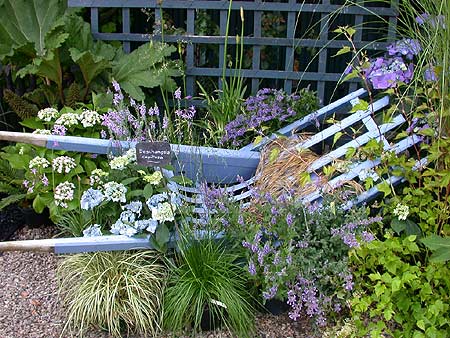 Balenciaga Blue:
Well, it goes without saying that after hundreds of years this colors beauty still enchants. Its subtle noblesse and soft luxuriousness beckons the way only a color so rarely found in nature can.
Merci Boucoup France for yet another indulgence for the senses, and thankfully this one is a gift that keeps on giving, just look around.